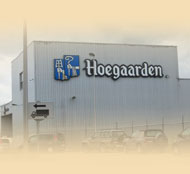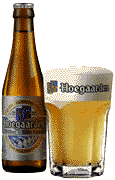 Hoegaarden (pronounced whogarden) is a white beer which is brewed in the Belgian town of Hoegaarden by the De Kluis Brewery which is now owned by Interbrew, the brewery that also owns Stella Artois. It is imported into Britain by Whitbread.

The brilliant white beer is brewed to a traditional recipe which dates as far back as 1445, although the beer Hoegaarden has only existed since 1966. Hoegaarden gets its great taste partly due to there being special ingredients added during the brewing process, such as - wheat, coriander and curacao orange peels. Also the pale, cloudy appearance of this mysterious looking drink is all thanks to an additional second fermentation in the bottle.

Hoegaarden is quite strong for a beer, standing at 5% vol. The beer even has it's own glass which is common with all Belgian beers. This six-sided chunky tumbler style glass, is very stylish and is almost bigger than the beer itself in popularity. The story behind the glass is that it is shaped so that the glass can be prized out of the drinkers hands with a spanner at the end of the night.